So here we are the first day of the A to Z Challenge of 2016, and my theme is old movies.  Our first letter is….
   and our first movie is: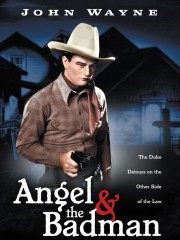 One of John Wayne's most mystical films, Angel and the Badman is also the first production that Wayne personally produced. The star plays a wounded outlaw who is sheltered by a Quaker family. Attracted to the family's angelic daughter Gail Russell, the hard-bitten Wayne undergoes a slow and subtle character transformation; still, he is obsessed with killing the man (Bruce Cabot) who murdered his foster father.
Do you want to see it…..????
I want to add here that Mr. Wayne was my mother's most favorite actor.  She would literally swoon when he was on…. ~snicker~!!!
Thanks for stopping by!!!  While you're here you could follow me under "Linky Followers"  I sure would appreciate it!  THANKS!!