#Shoplet carries an assortment of office supplies, cleaning supplies, medical supplies, office furniture, and everything in between!!!  WOW!  That was a mouth full wasn't it & I bet Santa has been here a lot!  ho ho ho!  Yep, Shoplet.com is the place to go for so much and the best is you can get it all on line.  Now you have to see these.  They're called GOJO !!!
 FREE Two Day Shipping
Scientifically advanced, patent-pending formulation kills the most germs.
99% of most common germs that may cause illness. Enhanced with a nourishing blend of four different skin-conditioners.   SOOO  many places to go and so much great stuff to see!  Click on the pics too and see what they hide~!
When To Use: Using PURELL Advanced Hand Sanitizer at key moments is a simple and effective way for youand your family to stay healthy and well. Key moments for use include:
After using the bathroom
After sneezing or coughing
After handling money; and 
After touching a surface that has been touched by many, such as a grocery cart, door handle, restaurant menu or condiment dispenser.
Camping
Kitchen
Diaper bag
the possibilities are endless!
Loving the little hanger so you can hang it anywhere… your office, kitchen, baby's room, car…. and on and on!!!
Purell Advanced Instant Hand Sanitizer Gel
Fresh Scent, 8 Oz Bottle
There's so many places you can use these.  Put one in your purse, diaper bag, glove compartment, desk drawer, at work, jacket pocket… the places are endless and this is definitely the time of year to use one of these because no one wants any germs to get sick!  They're so handy and I love the different colors, and what a great gift to add to any other gift or what about a basket of these products for a wedding gift or baby shower!  My gosh, my mind keeps wondering as to what you can use them for or put them!  Totally cool!  Get yours today!  There are links all over this Post.  Click on the link or the pictures you'll find different places for this fabulous product.  Heck, just check this out!  I found a little history on this product!  This is really great stuff!
PURELL Hand Sanitizer was invented in 1988 by GOJO to meet the needs of healthcare providers & restaurants operators looking for ways to reduce the spreading of germs. Healthcare workers needed to kill germs on their hands when they couldn't get to soap and water.  I mean can you imagine, and restaurant operators needed extra germ-fighting protection to reduce the risk of food contamination.  Whoa, now I'm worried.  Can you imagine being a restaurant owner and health inspectors come in and there's nothing around to disinfect your hands when you really need too???  (I think a little sweat on the brow needs to be inserted here).  WHEW!
PURELL Hand Sanitizer was a great success needless to say, and not only because it was effective at killing 99.99% of most common germs, but because it was convenient to use, and gentle on the skin not to mention a pleasure to use!  The dispensers and bottles could be placed and hung anywhere, so hand hygiene was no longer restricted to the confines of a sink, and people enjoyed using PURELL Hand Sanitizer because it was refreshing and gentle and really smelled nice!
It's popularity grew, and grew, and people who used it at work also started using it in other places like at home or at the office, babysitting, store, gym, shopping…. ideas were endless!  In 1997, PURELL Hand Sanitizer was made available to consumers, forever changing the way sanitizing was done. It soon became America's #1 hand sanitizer and a significant part of popular culture.
Today, PURELL Hand Sanitizer remains one of the most recognized brands in the world. It defines the hand sanitizer category and is the brand most preferred by doctors, professionals and consumers everywhere.


And now we've taken the next step and introduced PURELL Advanced Hand Sanitizer, the ultimate in germ-killing effectiveness!  Hmmmmmm, I bet Santa has some in his pocket too!  ho ho ho~!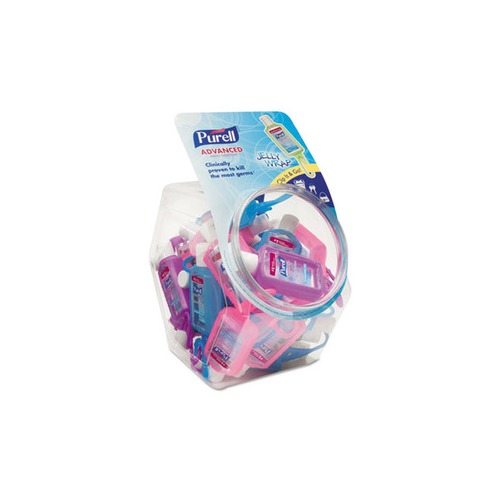 So, as they say and life goes on and on and on, but at least this life is going to be germ free or pretty darn close to it!  Thanks for stopping by and a very MERRY CHRISTMAS TO ALL & TO ALL A GOODNIGHT!