POST-IT MESSAGE BOARD
PREMIUM DRY ERASE & LONG-LASTING ADHESIVE SURFACE!
So, check this out Shoplet.com with ME in mind!!!  ~snicker~  This is my new Post-it Bulletin/Dry Erase-Message Board. you see the top half in white, and do you see the pen at the top?  Well, you write on the white half and it wipes clean every time.  it's a 2 in 1 combination message and display board.  It also has long lasting adhesive surface at the bottom.  Is this cool or what.  Yep it has a sticky surface (surface with adhesive at the bottom for notes or pictures.  Totally cool!!!  It's 18″ X 22″ and 8 medium Command Interlocking Fasteners to hang it up on your wall and of course it comes with one dry erase marker.  All instructions for hanging come with the product on the back (by 3M, Office Supplies Division).
Cleaning:  The sticky surface of the Post-It Message Board may become contaminated by loose paper fivers or dust.  To clean said board just wrap 810 Scotch Magic tape around your fingers, adhesive side out, and "pat" the contaminated area.  To renew the stickiness, gently wipe with a damp sponge and allow to air dry fully before using.  Ingenious!  Woo Hoo!  I was wondering about that… weren't you?  Sheesh!
NO WORRIES!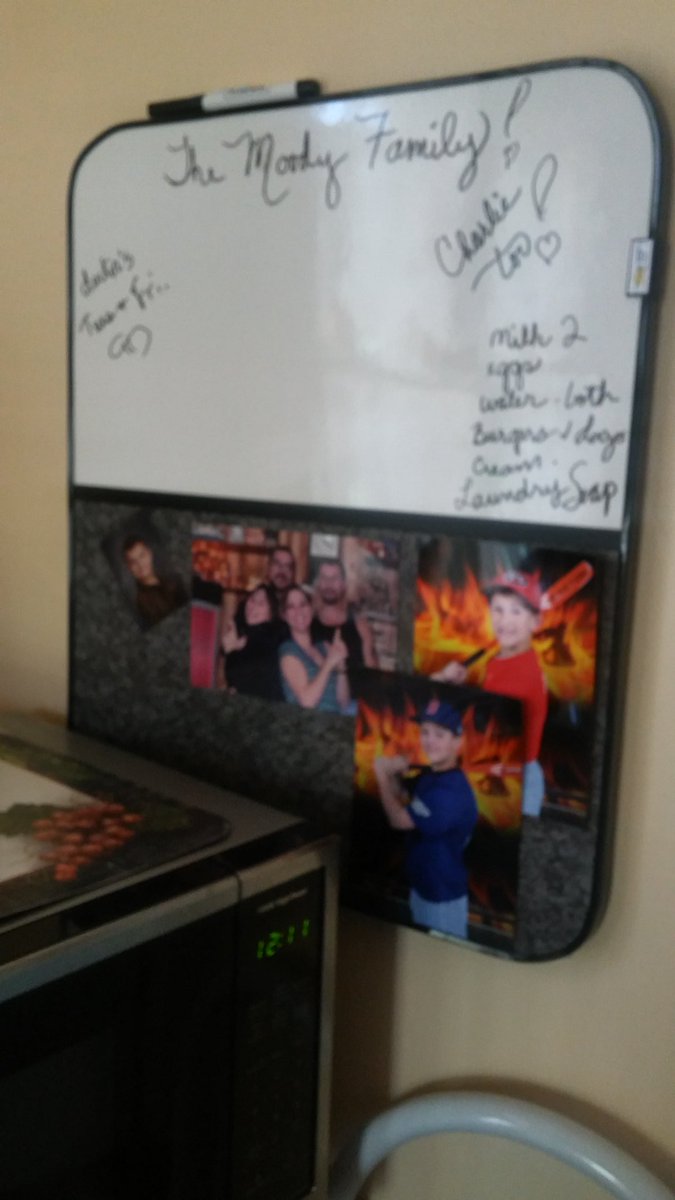 All the instructions for hanging said board comes with it too!  From fabric Wall Mounting etc. to cleaning your message board.  I personally am trying to see if I get the most use out of it in my kitchen for grocery notes and appointments etc. or if it will be needed in my office more.  I've already hung some pics up on it too!  ~hehehe~
You see here's the point I'm trying to make.  Being a retired "Paralegal/Legal Assistant", and more or less being a Legal Secretary too a good part of my life I guess I kind of run things in my office at home the way I ran it when I was working for a law firm.  I worked downtown for 20 yrs., and you just don't throw your old ways out the window.  I like comfort, and most of all convenience.  Everything has a place and everything in its place!  "Convenience" is the key word here!  ~hehehe~  So, I keep my office supplies stocked, my cleaning supplies for both the household and my office well stocked, heck even my medical supplies is always checked and stocked.
So far my Message Board is working quite nicely in the kitchen.  In fact, I'm about to get up and get my grocery list and head off to the market and get a few things.  Thanks Shoplet.com… you are the best to keep me so very organized comfortably with hardly any work at all!  Off to the grocery store now and when I get back I'll even do a little shopping at Shoplet.com from my home desk chair… maybe in my robe!  ~hehehe~  Have a wonderful day and don't forget "All from the comforts at home you can do your shopping at Shoplet.com"!  Have a nice day!
*Disclaimer:   Opinion in this Post is 100% my own and no monetary compensation was given. I received a product sample in order to facilitate my honest review.